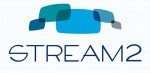 ---
Stream2
University Telecommunications and Student Housing have partnered with Apogee to offer its IPTV (Internet Protocol Television) service, Stream2, to on-campus housing residents, faculty and staff. Streaming services are available for their computers, streaming devices and smart TVs and personal mobile devices (iOS & Android). The streaming TV service is only available while connected to the campus network.
Benefits
Allows you to access the streaming service on your computer and devices while on the campus network.
Provides access to 80 TV channels including local, movie and sports channels in a browser on your computer or through an App on your phone or tablet.
Supports DVR recording capabilities up to 20 hours with pause, rewind and fast-forward functionality. This feature includes a 24 hour window of replayable content.
Access
Go to webplayer.mystream2.com * We highly recommend using the Chrome browser.
Search for "The University of Mississippi".


---

Click Next.


---

Login with your Ole Miss webID and password.


---

Accept the End User Agreement.


---
Watch your favorite channels from any device!

---
Download the App for mobile viewing
Use the App to access the streaming TV service.
Get Help from Apogee
A support representative with Apogee is available 24 hours a day to assist you via chat, text, phone, or email.