Connecting and Programming Your HDTV
1. The University of Mississippi digital cable system requires a television with a cable QAM tuner. Read here for more information about Television Compatibility. Once you have determined if your television is compatible, then proceed to the next steps for connecting and programming your HDTV.
2. Be sure you have a high quality coaxial cable and high quality component cables that may be needed to connect other devices to your HDTV (see cable illustrations below).
3. Connect the coaxial cable to the RF Port back of your TV and then to the cable outlet in your room.
4. Auto program your HDTV to receive all available channels. This usually can be done through the menu option on your remote control by choosing auto program, auto scan, scan, or something similar. Be sure your TV reception type is set to Cable or CATV.
5. If auto program does not work, disconnect all external devices and plug your HDTV directly into the cable outlet on the wall and try auto program again. If you have already done this and need further assistance, please call the Telecommunications Center at 662-915-5922.
For information on how to connect other devices such as TIVO, DVRs, Blu-Ray players, game consoles, etc., please refer to your HDTV user guide. Note that if you have external devices connected to your HDTV, they must be HD compatible in order for you to receive HD channels.
For further information on HDTV setup and programming, visit: http://electronics.howstuffworks.com/how-to-hdtv.htm
Types of Cables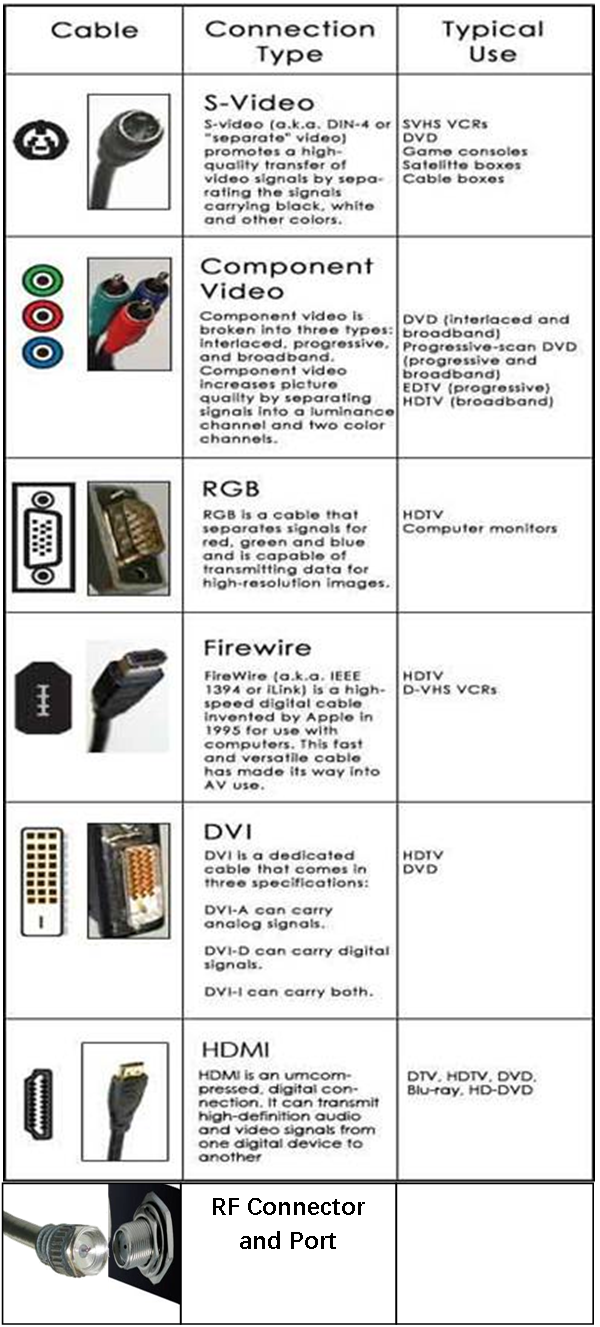 If you have any questions, please email to telcom@olemiss.edu